Beryl bids farewell: "It's been a great ride"
Beryl bids farewell: "It's been a great ride"
November 26, 2012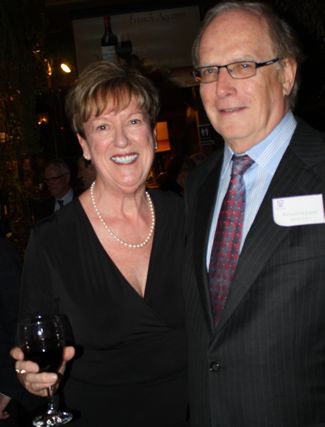 Alumni, colleagues, friends and family gathered on November 22 in London to celebrate and pay tribute to Beryl Theobald, Western Law's Director of Admissions, who is retiring after a 33-year career at the Faculty of Law.
"Beryl has left an indelible impression on the law school," said Professor Richard McLaren who first hired Beryl in 1979.
"Her impressive career has had a positive impact on so many lives and she will be fondly remembered by all."
Beryl (pictured left with Richard McLaren) has held a variety of administrative positions at the faculty including working with alumni development and creating continuing education programs. She has held the role of Admissions Director for the past 17 years, a position she refers to as her "dream job".
"It has been a privilege and an honour to work with and to get to know so many talented people at the law school - faculty, staff and students, from whom I have learned so much," said Beryl. 
"I have loved coming to work and meeting with prospective and current students, graduates and working with such great colleagues," she said.
In particular Beryl acknowledged and thanked Lorraine Richardson for her steadfast support in the day-to-day challenges in the Admissions Office.
"My time at Western Law has been a wonderful experience," Beryl concluded, "it's been a great ride!"
To recognize Beryl's many contributions to Western Law, an entrance award has been established in her honour.
For more information and to make an online donation, visit here.
View photos from Beryl's retirement celebration on Facebook.
Read an article about Beryl's career in the 2012 Western Law Alumni magazine.