Litigation Stream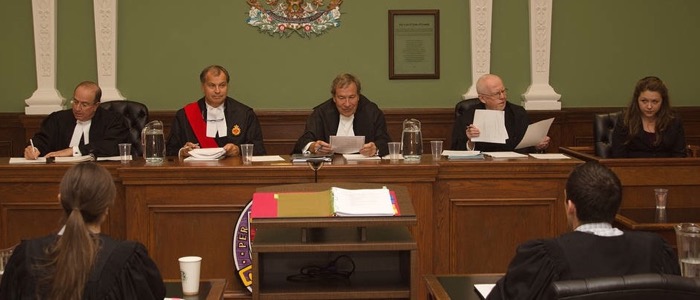 Faculty Advisor: Professor Erika Chamberlain
Litigators can work in a wide variety of practice areas, including personal injury, commercial law, constitutional law, and intellectual property. They require strong skills in negotiation and written and oral advocacy, as well as a solid understanding of the law of evidence, civil procedure and remedies. The litigation stream at Western Law provides students with both foundational knowledge and the ability to practice their litigation skills through clinical and advocacy courses at the trial and appellate levels.
Students can participate in a large number of co-curricular activities that build their litigation skills. Western Law boasts one of the richest mooting programs in the country, with internal moots in the areas of civil law, labour law, legal ethics, medical malpractice, and corporate restructuring. Most of these competitions are open to students from all years, which means that first-year students can get on their feet early and often in front of professors, practitioners, and eminent members of the judiciary. Western Law has an active student Advocacy Committee, which organizes workshops and coaching sessions to help students build their advocacy skills. Western Law also frequently invites local litigators to give students practical advice on a variety of specific skills related to litigation.
The litigation stream also benefits from Western's faculty strength in tort law. Western Law professors have authored leading textbooks and casebooks in tort law, and have expertise in medical malpractice, alcohol-related liability, economic torts, insurance, public authority liability, and tort theory.
Capstone

Core Courses Prerequisites* 

Upper Year Electives

Litigation Practice
Advanced Civil Law Clinic
Advanced Family Law Clinic
Advanced Torts
Conflict of Laws
External advocacy competitions (various)
Family Law Externship
Healthcare Law and Policy
Insurance Law
International Commercial Litigation
Introduction to Clinical Law
Labour Arbitration and Procedure
Negotiation and Mediation
Personal Injury Law
Remedies
Theory and Practice of Sport Law
Trial Advocacy
NOTE: not all courses are offered every year.
*All upper year prerequisites must be taken after first year Torts.
Relevant Co-Curricular Opportunities