Intellectual Property, Information and Technology Law (Area of Concentration)
Intellectual Property, Information and Technology Law (Area of Concentration)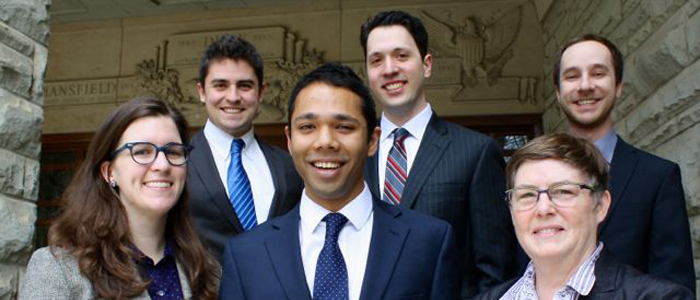 Acting Director: Professor Bassem Awad
Western Law's Area of Concentration in Intellectual Property, Information and Technology (IPIT) is a unique academic program in Canada (developed in consultation with practitioners in various information law–related and intellectual property practices):  no other law school certifies completion of an academic concentration involving intellectual property, information law and technology law on the transcripts of its JD students.  Its graduates work in such settings as large multi-faceted firms, boutique intellectual property firms, energy utilities, criminal law, private sector entertainment companies, and legal publishing. Many graduates return regularly to teach courses, speak, and give guest lectures at Western.
The specific IPIT courses that are required to fulfill the IPIT Area requirements are Intellectual Property, Administrative Law and International Protection of Intellectual Property (IPIP). Each of these is offered annually. To graduate with the IPIT designation, students must complete at least one course from each of the three groups listed below. These elective courses will familiarize students with various topics ranging from private international law to franchise law, advanced intellectual property/ advanced patent law, and disruptive technologies and law including privacy, data ownership and intellectual property challenges associated with artificial intelligence. Students will have the opportunity to develop their skills in the area of intellectual property law by participating in the Harold Fox IP Moot, WORLDiscoveries Internship and the IPIT Capstone course.

Because these electives generally include significant writing components and exercises, they are frequently designated as fulfilling the Faculty and IPIT Area Essay Requirement (e.g. IPIP) or as fulfilling the Faculty's legal writing requirement (e.g. Disruptive Technologies and Law or Fox Intellectual Property Moot).
Required Courses

Intellectual Property
Administrative Law
International Protection of Intellectual Property

Group 1
(pick 1) 

Capstone: IPIT
*Conflict of Laws
*International Commercial Litigation

Group 2
(pick 1)

*Advanced Intellectual Property
*Advanced Patent Law
*Commercial Litigation in the Digital Age
*Entertainment Law
*Franchise Law
*WORLDisoveries IP Internship

Group 3
(pick 1) 

*Comparative Copyright Law
Harold Fox IP Moot
Disruptive Technologies (AI & Big Data) and Law
*Healthcare Law & Policy
(if paper is in IPIT area)
*Media Law
*Pharmaceutical & Health Regulation

plus Essay Requirement (topic in IPIT area)
Courses marked * may be offered in alternating years.
Relevant Co-Curricular Opportunities
Western Intellectual Property Association (WIPA)