Opportunities in the Legal Profession:
Indigenous Perspectives and Reflections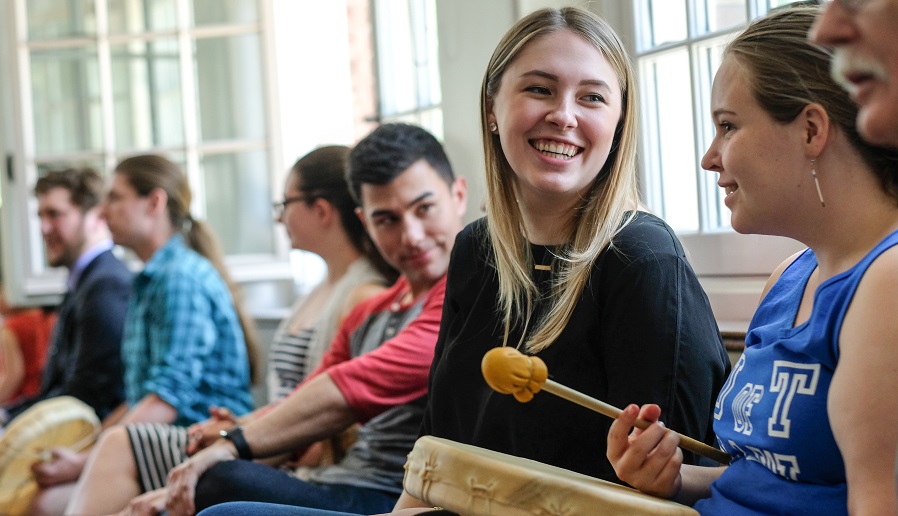 Are you interested in attending law school? Becoming a lawyer? Or seeing what doors a law degree can open for you?
The National Advocates for Indigenous Law Students (NAILS) is hosting an Indigenous lawyer panel and law school information session via Zoom on Tuesday, February 2, 2021, from 12:00-1:30 pm EST. This is a perfect opportunity to hear from a panel of respected Indigenous lawyers about the law school experience for Indigenous peoples and the various careers available to you with a law degree. You will also learn about each law school in Ontario, including the supports available to Indigenous law students.
The event will begin with an opening from Elder Constance Simmonds, followed by our panel discussion. To learn more about our panelists see their biographies below. We will conclude with an information session with Ontario law school representatives. Your questions throughout the event are more than welcome! Questions can be submitted in advance through the registration page, or you can ask your questions live on the day of the event.
Registration:
If you are interested in exploring a career in law please register for the Opportunities in the Legal Profession: Indigenous Perspectives and Reflection session here by Monday, February 1st at midnight:
Once you register you will receive a confirmation email. You will then receive the Zoom meeting invitation the morning of February 2, 2021. Only registered individuals may participate in the event. Note: Registered attendees who stay until the end of the event will be entered in a draw to receive a prize package of swag from Ontario law schools! Four lucky winners will be selected.
If you have any questions, feel free to reach out to any of the event organizers below. We look forward to seeing you on February 2nd!
---
Panelist Biographies
Elder Constance Simmonds
Elder Constance Simmonds is a Cree Métis Knowledge Keeper (Treaty 6, Northern Saskatchewan) and pipe carrier with over forty years' experience providing addictions, mental health and trauma counselling. Elder Constance has served as a Senator for the Métis Nation of Ontario, a member of the Law Society of Ontario Indigenous Advisory Group, an Elder In Residence at Women's College Hospital, and a member of the University of Toronto's Council of Aboriginal Initiatives Elder's Circle, among many other things. Since 2016, Elder Constance has been working with the Faculty of Law at the University of Toronto to support Indigenous students and help settler students learn more about Indigenous epistemologies and laws.  She currently serves as the Faculty's Elder in Residence.
Sherry Abotossaway (Lakehead University)
Sherry Abotossaway – "Nimkii Kwe" – grew up on Aundeck Omni Kaning First Nation on Manitoulin Island. She graduated from the Bora Laskin Faculty of Law and was called to the Ontario Bar in 2019. Sherry proudly began her legal career as a sole practitioner.  She currently practises primarily criminal defence law, representing clients in all of northwestern Ontario, including remote First Nations.  Most recently, she worked in the Ontario Court of Justice assisting defendants impacted by COVID-19 who otherwise would not have had timely legal assistance. Sherry is serving a two-year term with the Criminal Lawyers Association–Recent Call Committee.  She is also a member the Indigenous Bar Association, the Defence Counsel Association of Thunder Bay, and the Thunder Bay Law Association. 
Etienne Esquega (Osgoode Hall Law School)
Etienne Esquega is a member of the Biinjitiwaabik Zaaging Anishinaabek (Rocky Bay First Nation).  He attended Osgoode Hall Law School and was called to the Ontario Bar in 2005.  Etienne has dealt with a wide range of legal issues in all levels of courts in Ontario and federally.  His practice areas include aboriginal law, commercial law, civil litigation, and employment law.  Etienne is committed to the advancement of First Nations people in Canada.  He served as a member of the Law Society of Ontario's (LSO) Indigenous Advisory Group from 2016-2019 and currently serves as a Bencher with the LSO.  In addition, Etienne has been active in a number of professional organizations and Indigenous public service initiatives throughout his career.
Jaimie Lickers (Queen's University)
Jaimie Lickers (Queen's Law '07) is the Vice President of Indigenous Markets at the CIBC, where she leads a team of trust and lending experts who provide dedicated service to Indigenous Nations, businesses and individuals.  Before joining CIBC, Jaimie was a partner in Gowling WLG's Hamilton office and national leader of the firm's Indigenous Law Group. Her practice focused on trust deeds for Indigenous communities, financial services and lending for First Nations, and First Nations tax law.  Among many awards she has received, Jaimie was named one of Canada's "Top 25 Most Influential Lawyers" by Canadian Lawyer magazine in 2019.  In 2017 she received a Lexpert Zenith Award, which celebrates women who have demonstrated excellence and thought leadership in the legal profession.  Jaimie is Onondaga and from the Haudenosaunee community of Six Nations of the Grand River.
Jeff Warnock (Western University)
Jeff Warnock currently works as an adjunct professor at Western University Faculty of Law, where his areas of teaching include Aboriginal and Indigenous Law.  He is also a student in Western's Master of Laws (LLM) program, having graduated from Western Law in 2012. Jeff is a citizen of the Metis Nation of Ontario and previously worked as a litigator, as the Senior Public Policy Advisor for the Metis Nation of Ontario, and on student programs and diversity outreach initiatives at Blake Cassels and Graydon LLP.
---
University Contact List: