Jennifer Farrell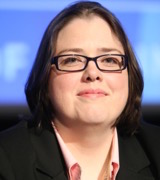 LLB, LLM, PhD (Lond.) called to the Bar of Ontario.
Dr. Jennifer Farrell is an Assistant Professor in the Faculty of Law and an Associate Research Fellow at the Tax Administration Research Centre (TARC) at the University of Exeter Business School. In 2017-18, Jennifer was named "Professor of the Year" by the Student Legal Society.
Jennifer completed her doctoral research at Queen Mary, University of London, and an LLM in Tax at King's College London. Her doctoral research won the International Fiscal Association's Mitchell B. Carroll prize presented at the Association's 65th Congress. Her book The Interface of International Trade Law and Taxation was published by the IBFD (2013). Prior to joining Western, Jennifer held a Marie Skłodowska-Curie Fellowship in International Taxation at the Institute for Austrian and International Tax Law, Vienna University of Economics and Business, and she has previously held research positions at Exeter Business School and the University of London, England. Her research interests look at the intersection of tax laws and cross-border taxation with other fields such as trade laws and technology (e.g., blockchain and cryptocurrencies). She is an active member of the Canadian Tax Foundation and International Fiscal Association. She teaches Income Taxation and International Tax Law. 
Jennifer E. Farrell, The Interface of International Trade Law and Taxation (2013, IBFD)