Jacob Shelley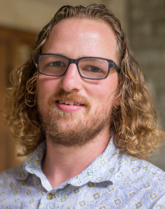 Jacob Shelley joined Western Law in 2015. He holds a joint appointment with the Faculty of Law and the School of Health Studies in the Faculty of Health Sciences. Professor Shelley also holds a cross appointment to the Schulich Interfaculty Program in Public Health. He is in final stages of his doctorate in law (SJD) at the University of Toronto, where he was a Vanier Fellow with the Canadian Institutes of Health Research. His doctoral thesis, under the supervision of Trudo Lemmens, examines the use of private law in obesity prevention, specifically looking at the use of product liability law to require food manufacturers to warn consumers about the dangers inherent in their food products.

Professor Shelley obtained his LLB (2007) and LLM (2009) from the University of Alberta. He also has a MTS from Conrad Grebel University College (2006). Professor Shelley's primary area of interest is the proper limits and role of law in promoting public health and preventing chronic disease. In addition, he is generally interested in issues that arise at the interface of law, health science, and ethics.


| | |
| --- | --- |
| Email: | jshelle6@uwo.ca |
| Phone: | 519-661-2111, ext.  80043 |
| Office: | LB 21 |
JJ Shelley, M Clark & T Caulfield, "The Face of Chiropractic: Evidence Based?" (2015) 20(1) Focus on Alternative and Complimentary Therapies 13-22.

JJ Shelley, "Addressing the Policy Cacophony does not Require More Evidence: An Argument for Reframing Obesity as Caloric Overconsumption" (2012) 12 BMC Public Health 1042.

JJ Shelley, "The Crown's Right of Recovery Act" (2010) 18:3 Health Law Review 15-23.

T Caulfield, V Alfonso & JJ Shelley, "Deterministic?: Newspaper Representations of Obesity and Genetics" (2009) 1 The Open Obesity Journal 38-40.

T Caulfield, JJ Shelley, T Bubela & L Minaker, "Framing Nutrigenomics for Individual and Public Health: Public Representations of an Emerging Field" in D Castle & N Ries, eds, Nutrition and Genomics: Issues of Ethics, Law, Regulation & Communication (New York: Elsevier, 2009) 223-244.

T Caulfield, JJ Shelley, V Alfonso & T Bubela, "Nutrigenomics and the Promise of Prevention: Representations and Realities" (2008) Special Edition Health Law Journal 41-65.
JJ Shelley & LM Minaker, Comparative Study on the Regulation of Public Health Systems that Guarantee Universal Coverage: The Case of Canada, report for the Pan American Health Organization (2011).

JJ Shelley, "Assessing the Science of Genetically Modified Crops: The New Frontier of Public Health Policy" (2007) 15:3 Health Law Review 19-23.

NM Ries & JJ Shelley, eds, Food, Health and Biotechnology: Consumer and Social Issues in Canada's New Food and Health Product Industries A Report from the Advanced Foods and Materials Network (Guelph, ON: Advanced Foods and Materials Network, 2007).

JJ Shelley, "Deference in the Public Health Context" (2006) 15:1 Health Law Review 33-36.
JJ Shelley, "Overview of the Legal and Policy Implications of Healthy Food Procurement in Public Facilities in Canada" (2014) Solutions for Change: Healthy Food Procurement & Nutrition Standards in Public Facilities (Edmonton, September 29).
M Fordham & JJ Shelley, "Panel Discussion: Weight Bias and Stigma" (2014) Canadian Obesity Student Meeting (Waterloo, June 21).
JJ Shelley, "Introduction to NHP Research and Derivative uses of Medicinal Plants, Including Synthetic Biology" (2013) Medicinal Plant Barcoding and Natural Health Products Research: Moving the Debate Forward on Access and Benefit Sharing (Mexico City, February 12-13).
JJ Shelley, "Assuring, Ensuring, or Protecting? A Reflection on the Ever-shifting Definition of Public Health Law, and What It Might Mean for Public Health Ethics" (2011) University of Toronto, Joint Centre for Bioethics, Bioethics Seminar (Toronto, Ontario, September 14).
JJ Shelley, "Legal and Ethical Issues Associated with Patient Recruitment in Clinical Trials for Stem Cell Research" (2008) Ready for Change: Alberta College of Medical Laboratory Technologists Annual Convention (Calgary, Alberta, September 26-27).
JJ Shelley, "Plenary Session: Challenge Panel: Parental Rights and Responsibilities, Focus on Obesity and ATV Accidents" (2008) Family: 19th Annual Canadian Bioethics Society Conference (St. John's, Newfoundland & Labrador, June 18-21).
JJ Shelley, "Looking Ahead in Tobacco Control: Novel Litigation & Legislation" (2007) 5th National Conference on Tobacco or Health (Edmonton, Alberta, October 1-3).
JJ Shelley & B von Tigerstrom, "Tobacco and the Law: An Overview of the Canadian Legal Framework" (2007) 5th National Conference on Tobacco or Health (Edmonton, Alberta, October 1-3).