Alfonso Nocilla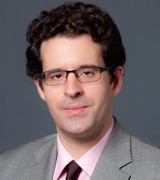 BA (Hons) (Toronto) 2007, JD (Queen's) 2010, LLM (Western) 2011, called to the Bar of Ontario (2012).
Alfonso joined Western as an Assistant Professor in 2018. Previously, he was a Visiting Professor and Catalyst Capital Fellow in Insolvency Law at Western, teaching international and comparative corporate insolvency during the 2017 January Term.
Alfonso is completing his Ph.D. at the Faculty of Laws at University College London (UK).  His research focuses on corporate insolvency and restructuring law from an empirical and comparative perspective, with emphasis on the outcomes of formal restructuring processes in the UK, US and Canada.  In connection with this research, he has also worked as a researcher for the University of Florence as part of a multinational EU-funded project comparing the outcomes of corporate insolvency processes in the UK, Italy, Spain and Germany. 
Alfonso has published several academic articles and has won a number of awards for his research, including a Doctoral Fellowship from the Social Sciences and Humanities Research Council of Canada and the 2015 Ian Strang Founders' Award from the International Association of Restructuring, Insolvency & Bankruptcy Professionals (INSOL).
Journal Articles
"Asset Sales and Secured Creditor Control in Restructuring: A Comparison of the UK, US and Canadian Models" (2017) 26:1 International Insolvency Review 60-81.
"The History of the Companies' Creditors Arrangement Act and the Future of Restructuring Law in Canada" (2014) 56:1 Canadian Business Law Journal 73-103.  Excerpts reprinted in Anthony Duggan et al., Canadian Bankruptcy and Insolvency Law: Cases, Text, and Materials (Toronto: Emond Montgomery, 2015).
"Is 'Corporate Rescue' Working in Canada?" (2013) 53:3 Canadian Business Law Journal 382-406.
"Asset Sales Under the Companies' Creditors Arrangement Act and the Failure of Section 36" (2012) 52:2 Canadian Business Law Journal 226-247.
Chapters in Books
"National Report for Canada" in Jason Chuah and Eugenio Vaccari, eds., Executory Contracts in Insolvency Law (Edward Elgar Publishing, forthcoming).
Book Reviews
Louise Gullifer and Orkun Akseli, eds., Secured Transactions Law Reform: Principles, Policies and Practice (Oxford: Hart Publishing, 2016), forthcoming in Banking and Finance Law Review.
Bo Xie, Comparative Insolvency Law: The Pre-pack Approach in Corporate Rescue (Cheltenham: Edward Elgar Publishing, 2016), forthcoming in Canadian Business Law Journal.