Faculty Book Recommendations 2020
October 07, 2020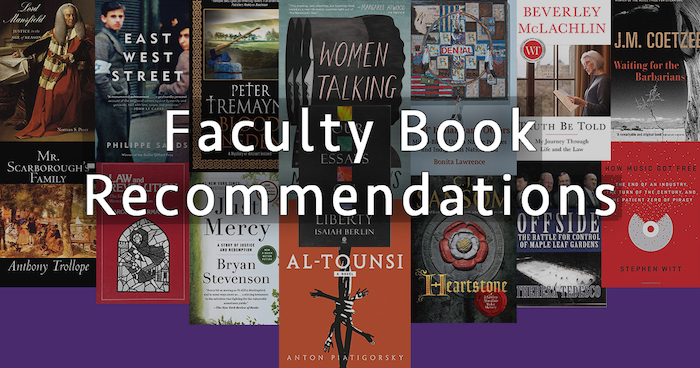 From historical fiction to judicial memoirs - this list of thought-provoking books recommended by our faculty will inspire, engage and educate.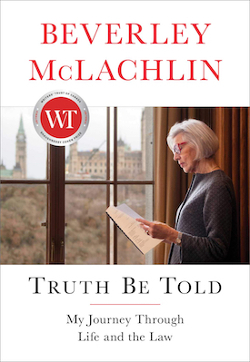 Truth be Told: My Journey Through Life and the Law by Beverley McLachlin (Simon & Schuster, 2019)
Recommended by Professor Chi Carmody
Beverley McLachlin – or the Right Hon. Beverley McLachlin, first female Chief Justice of Canada (2000-2017) – grew up in the small Alberta town of Pincher Creek. This book is her autobiography. It focuses more on her 'life' than on the 'law' but that's essential to its refreshing honesty. The former Chief Justice writes frankly about her upbringing in a rural community and her eventual move to Edmonton to study philosophy and law. Along the way she recounts her struggles with depression, the barriers she faced as a female, and the challenges she encountered trying to balance practice with marriage and motherhood, before entering academia and her appointment to the bench in 1981. It is often said that Beverley McLachlin rose through the ranks to the Supreme Court of Canada faster than many cases on the Court's docket, but she tarries to critically reflect on herself and her choices. The former Chief Justice is also plain in her concern about access to justice and her abiding interest in the condition of women and minorities, particularly Canada's indigenous peoples. It's all very clear-eyed and insightful, the story of a person who has led a real – and realized - life.
Al-Tounsi  by Anton Piatigorsky (Crowsnest Books, 2017)
Recommended by Professor David Sandomierski
This remarkable book explores the inner psychology of an imagined United States Supreme Court Justices in the context of a case involving the rights of detainees held in an overseas US military base.For law students who are taken to wondering about the impact of life experiences on judges' decisions, this book is illuminating and revelatory. The author is a brilliant student of the human condition and has engaged rigorously with the jurisprudence of leading US cases on habeas corpus to provide this truly unique mash-up of narrative, legal theory, interpretive theory, and psychological insight. It is a genre-busting and genre-making specimen of law and literature. Imagine one of the world's most talented playwrights lurking behind the wings of the inner chambers of the world's most powerful justices and composing a detailed, imaginative ethnography. This book is gripping, insightful, and has taught me more about the relationship of humanity to law than any other thing I have read.
 Mr. Scarborough's Family  by Anthony Trollope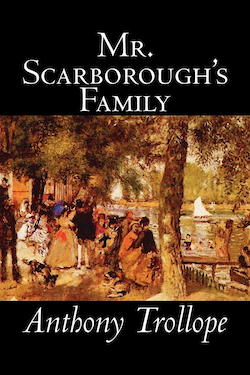 Recommended by Professor Colin Campbell
At first sight, this may seem an unusual choice - a novel by the prolific19th century English writer, Anthony Trollope (this was his 43rd novel; the result of producing 3,000 words a day before breakfast). Trollope was not a lawyer but he wrote about the mores and conventions (including those about courting and marriage) of the mid-Victorian upper class for whom property, and in particular, landed property, was of critical importance.  
So, his novels often touched on the legal issues arising with entailed estates, marriage settlements and the debts incurred by feckless male heirs.  This novel, however, turns entirely on the central character's attempts to avoid the consequences of an entail and the way he engages (and tricks) the lawyers who are also major figures in the story.  And,like virtually all Trollope's works, there is at least one love story with a happy ending.  Finally, for a Victorian man, Trollope gave unusually significant roles to his female characters and was very aware of the changing position, legal and otherwise, of women in English society at the time.  Review your notes on an estate tail in land and enjoy!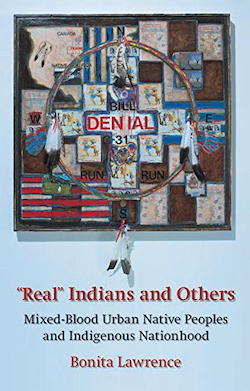 Real Indians and Others: Mixed Blood Urban Native peoples and Indigenous Nationhood by Bonita Lawrence (UBC Press: Vancouver, 2004)
Recommended by Professor Frankie Young
This book is a breathtaking account of the experience of mixed blood Natives in urban centres. Professor Lawrence explores the realities of diversity in Native identities in Canada, due to the impacts of colonialism, assimilation and how the law divides Natives into different legal categories. By drawing on interviews with urban Natives, Professor Lawrence posits that mixed blood Natives wrestle with the complexity of past and current identities particularly because they may not be viewed as "real Indians", a view perpetuated by legal standing. Professor Lawrence argues that many nuances exist for those of mixed blood and proposes forms of nation-building that can reconcile the differences in experiences between urban and reserve-based Indigenous communities. Due to the diversity of Indigenous students we see in law schools today, it is well worth the read.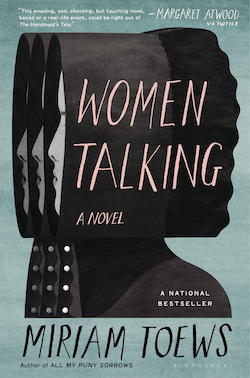 Women Talking, by Miriam Toews (Knopf Canada, 2019)
Recommended by Dean Erika Chamberlain
While not strictly a book about law, Women Talking explores how victims and communities respond to crime, especially gender-based violence. It is based on the true story of the so-called "ghost rapes" in the Bolivian Mennonite colony of Manitoba, where several men drugged women in their sleep and raped them. While the male leaders of the community go to the city to bail out the perpetrators, a group of women gather to discuss their response: do nothing, fight back, or leave the colony entirely. Their discussions reveal the complex responses of retribution, forgiveness, and fear – both of recurring violence and of the uncertainty they would face if they left their isolated community. In the post-#MeToo era, this book is a reminder of the intricate challenges that rape victims face. And despite its serious subject matter, Women Talking also provides a good dose of humour through its quirky cast of characters.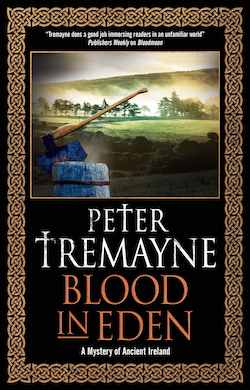 Blood in Eden by Peter Tremayne (London, UK: Headline Publishing Group, 2019)
Recommended by Professor Margaret Ann Wilkinson
This historical fiction mystery novel has several differences from the run-of-the-mill:  first, it is the 30th volume in a series featuring a 7th century female Irish lawyer (all available online and in audio book); second, the pseudonymous Peter Tremayne is actually Celtic Studies scholar Peter Berresford Ellis; and, third, the academic volume The Sister Fidelma Mysteries: Essays on the Historical Novels of Peter Tremayne (Edward J. Reilly & David Robert Wooten, eds (Jefferson, NC: McFarland, 2012)) attests to the series' scholarly connections. While starting with the first novel Absolution by Murder (1994) might be fun, each novel stands on its own.
Throughout the books, the native Irish Brehon Code system of law is coming under increasing challenge from imported law being imposed by the spread of European Christianity into Ireland.  Both Fidelma's role as a lawyer and position as a woman in her society are challenged by the new legal ideas (which, years later, did triumph in Ireland).  Another character in the novels, Brother Eadulf, is Saxon and, through him, the author often contrasts the Saxon legal system with the Irish. In an "Author's Note" to each volume, fact is separated from fiction – and depiction of the law is one of the ways in which the author scrupulously keeps to historical fact.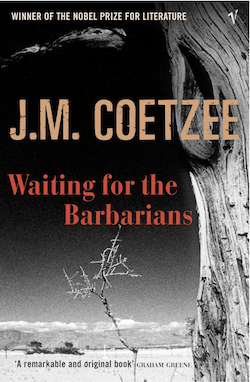 Waiting for the Barbarians by J.M. Coetzee (Penguin, 1980)
Recommended by Professor Michael Lynk
Waiting for the Barbarians is a short, incisive novel by J. M. Coetzee, the South African novelist and winner of the 2003 Nobel Prize for Literature. Written with flair, eloquence and deep political meaning, the novel tells the story of an unnamed Magistrate who is responsible for the legal affairs of an outpost at the remote ends of a crumbling empire. The colonial army uses 'enhanced interrogation' methods to question indigenous prisoners, a method that the Magistrate recoils against. "Pain is truth," Coetzee has a senior army officer say to the Magistrate to justify the torture, "all else is subject to doubt." As the Magistrate's sense of complicity grows, he develops a strong sense of empathy with the 'barbarian' population, for which he pays with his freedom. Written in 1980, this allegory against tyranny, colonialism and rule by law was part of the literary offensive that brought down Apartheid. A movie of Waiting for the Barbarians has just been released, starring Robert Pattison and Johnny Depp.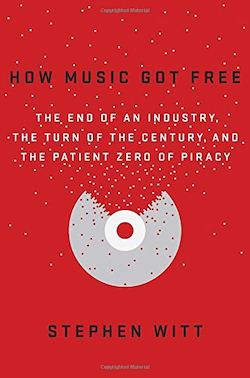 Stephen Witt, How Music Got Free: The End of an Industry, the Turn of the Century, and the Patient Zero of Piracy (New York: Viking, 2015)
Recommended by Stephen Spong
I'm old enough to remember the pre-Napster era of music consumption, but was also a teenager when Napster upended how we consumed music. It was also probably the first time that I even really heard of or understood copyright as a concept, so it began a lifelong fascination with the intersection of copyright and music.
Published in 2015, How Music Got Free is a fantastic, compulsively readable journalistic work that manages to clearly capture the many disparate narrative threads that converged in the near-collapse of the record industry in the late 1990s and early 2000s. It discusses the creation of the MP3 file format, the surprisingly well-organized pirate networks, a story of a single record plant employee who smuggled out CDs before their release, and the response of the record industry to these existential threats (in a nutshell: indiscriminate, heavy-handed lawsuits). It's a book that could have been a mess, but manages to synthesize a wide range of practical, social, technological, and legal threads into a coherent and approachable whole that can be easily read in a sitting or two.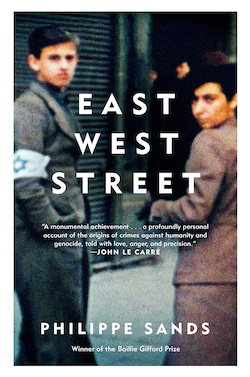 East West Street: On the Origins of "Genocide" and "Crimes Against Humanity"  by Phillipe Sands (Knopf Doubleday Publishing Group, 2016
Recommended by Professor Ryan Liss
East West Street is a thoroughly engaging book about the web of people and events that created the post-Second Word War international criminal law system, including the Nuremberg Tribunal. Sands mixes biography, autobiography, intellectual history, and legal history in an extremely readable form. The book illuminates the ways in which legal change seems simultaneously to be the inevitable result of grand societal forces, and the extremely contingent efforts of enterprising individuals. It's worth a read by both those with an interest in international law and those without one.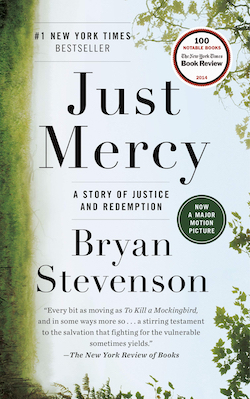 Just Mercy: A story of Justice and Redemption by Bryan Stevenson (Random House Publishing Group, 2015)
Recommended by Professor Joanna Langille
A great book for future lawyers to read is Bryan Stevenson's Just Mercy. It is a memoir by one of America's leading criminal defense lawyers and social justice activists -- as well as a treatise on the importance of mercy in the law. Stevenson describes his experience defending the criminally accused in Alabama, and why he founded the Equal Justice Initiative, one of the most influential legal clinics in the US. Just Mercy is both deeply moving in its sharp depiction of life as a defense lawyer and analytically rigorous in its condemnation of aspects of the American criminal justice system. It has also been recently been made into a film, starring Michael B. Jordan and Jamie Foxx.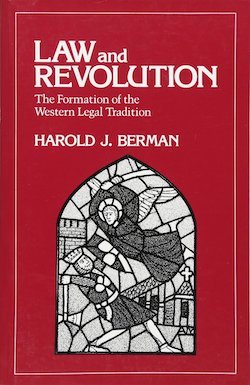 Law and Revolution, I: The Formation of the Western Legal Tradition by Harold Berman (Harvard University Press, 1983)
Recommended by Professor Alfonso Nocilla
Berman's thesis challenges most other accounts of the emergence of modern Western legal systems by tracing their origins to a series of social and religious upheavals that occurred during a relatively brief period in the 11th century.  The changes wrought by these upheavals shaped the development of legal institutions in Europe and beyond in the centuries that followed.  It is a thought provoking and surprisingly readable book.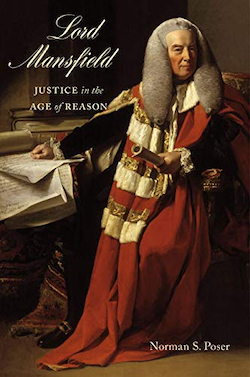 Lord Mansfield: Justice in the Age of Reason By Norman S. Poser (McGill-Queen's University Press, 2015)
Recommended by Professor Chi Carmody 
William Murray, Lord Mansfield (1705-1791), is remembered as a "Lion" of the Common Law. As a lawyer, politician and eventually Chief Justice of the Court of King's Bench, Murray was responsible for many leading cases that shaped the law of England and the Commonwealth today.
A new biography by Norman Poser, professor at Brooklyn Law School, illuminates Murray's life and the turbulent era he lived in. Murray was born into a branch of the Scottish nobility but soon left for England. For much of his early life there he lived under suspicion of being a traitor, something that may well have contributed to his outlook as both a conservative and 'outsider' interested in innovation. 
Still, Murray was no ingénue. In the topsy-turvy world of Georgian England he was a shrewd operator and sometimes - as in the trial of the hapless Admiral Byng - shockingly so. Well-spoken, intelligent, industrious and canny, Murray rose through the ranks, first as a barrister, then a politician, and finally as Attorney-General and judge, where, for all his innate conservatism, he proved an able reformer. The commercial law and insurance are best remembered as objects of his judicial attention, but Murray was also ahead of his time in his treatment of dissenters, women and slaves. Murray's considerate treatment of his mixed-race grandniece, Dido Elizabeth Belle, and his decision in The Zong, a case brought by cargo owners trying to claim insurance for slaves they had massacred, also contributed to the first stirrings of the abolition movement. (Incidentally, a dramatization of Dido's life, made into the movie Belle (2014), is available on Netflix). As told by Poser, justice in the Age of Reason was far from just - at least to modern eyes - but Murray's decisions often planted seeds that bore the fruit of more perfect justice in centuries to come.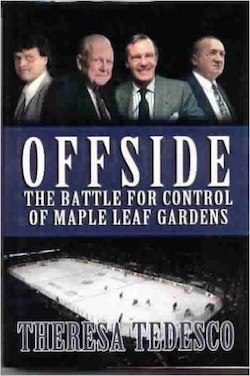 Offside: The Battle for Control of Maple Leaf Gardens by Theresa Tedesco, (Toronto: Viking, 1996)
Recommended by Professor Stephen Pitel 
This is a book about sport, business and law. The Toronto Maple Leafs are one of the most important and valuable professional sports franchises in North America.  For much of the 1970s and 1980s they were controlled by Harold Ballard, and when he died in 1990 a simmering fight for control of the team came to a boil.  This book recounts the subsequent business and legal maneuvering in boardrooms and courtrooms across the country: "a play-by-play account of one of the messiest, nastiest takeover battles in Canadian corporate history". The struggle involved iconic Canadian institutions such as Molson, Rogers, Tim Horton's and TD Bank, government agencies, pension funds and private charities. The author, now the Chief Business Correspondent at the National Post, is one of Canada's top financial reporters and her narrative is based on more than one hundred interviews. It is a tale I remember well:in the late 1990s I was one of the lawyers for Harold Ballard's son Bill for some of the litigation discussed in the book.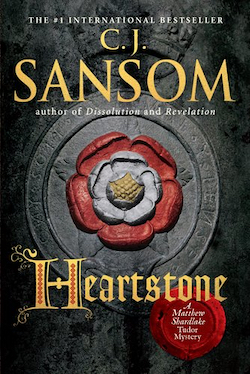 Heartstone: A Shardlake Novel by C.J. Sansom, (Toronto: Vintage Canada, 2011)
Recommended by Professor Margaret Ann Wilkinson 
This book is fiction, indeed a mystery novel: one of a series. However, its author is a British solicitor with a PhD in history and the hero of the series, Matthew Shardlake, is a Tudor lawyer.  While not distracting in any way from an engrossing and compelling tale, this novel, like the others in the series, is replete with detail about law, legal process, and the courts in the time of King Henry VIII.  In Heartstone, the 5th of the series, much revolves around Shardlake's position as counsel (acting mostly for the poor) in the Court of Requests, around his interest in an inmate of the Bedlam (hospital for lunatics), and around the legal processes in effect in the Court of Wards where the affairs of orphan minors were arranged. In addition to elements of the mystery that involve legal history, there is much in the telling of the unfolding story that is of direct relevance to the present practice of law: discussion that involves the reader in such matters as the duty of confidentiality owed by lawyers to clients, questions about extending the circle of confidence to include law clerks and other office staff, matters concerning the professional conduct expected towards each other of lawyers on opposite sides of a case, and matters of legal ethics such as approaching the client of another lawyer when that lawyer is not present. All the Shardlake novels conclude with a historical note from the author that separates historical fact from the literary license taken by the author for story purposes.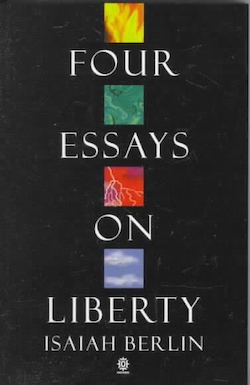 Four Essays on Liberty by Isaiah Berlin, (Oxford University Press, 1969) and Isaiah Berlin: A Life by Michael Ignatieff, (Penguin Books, 1998)
Recommended by Professor Jacob Shelley
This collection of essays by Isaiah Berlin on liberty are worth reading in their entirety, but everyone should read the third essay in the collection, "Two Concepts of Liberty". Berlin begins this essay by admonishing the reader of the danger of neglecting ideas, which, left unchecked, gain momentum and can become "an irresistible power over multitudes of men that may grow too violet to be affected by rational criticism." In his examination of two different but overlapping conceptions of liberty, negative liberty and positive liberty, Berlin's insights on coercion, freedom, law and the power of the state seem prescient. So insightful did I find this essay, that my copy of this edition is falling apart, worn and tattered, and broken at the seam. So inspiring did I find Berlin that I devoured Ignatieff's biography, which is masterfully written and compelling. Both are worth reading; "Two Concepts of Liberty" is worth reading again and again, and perhaps, as I may do this summer, again.