Western Law scores at hockey arbitration moot
Western Law scores at hockey arbitration moot
December 02, 2013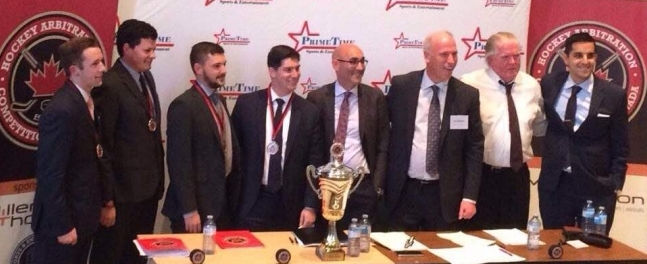 (l-r) Tyler Henderson, Fraser Malcolm, Devon McIntyre, Sean Del Giallo, Cliff Hart, Don Meehan, Brian Burke and Amir Torabi.
Western Law scored a big win at the third annual Hockey Arbitration Competition of Canada held at the University of Toronto on October 24 to 25.
The winning Western Law team of Sean Del Giallo and Devon McIntyre competed against 32 teams from 15 law schools across North America.
The moot competition simulates salary arbitration hearings with teams representing either a National Hockey League club or player. The competition is hosted by The University of Toronto Sports and Entertainment Law Society.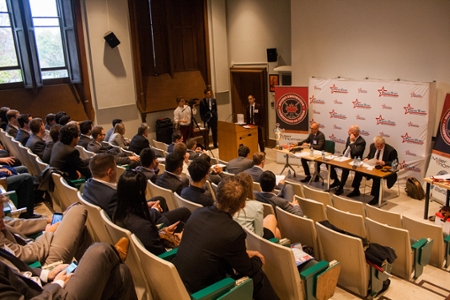 Western Law battled against U of T in the final rounds before a panel of arbitrators including Brian Burke, president of hockey operations for the Calgary Flames; Don Meehan, president of Newport Sports Management Inc.; and Cliff Hart, a partner from Borden Ladner Gervais LLP.
"The hockey arbitration competition was one of the best experiences I've had so far in law school," said McIntyre. "It was exciting to argue in front of some of the most qualified hockey player agents and sports lawyers in the country, making it all the way to the finals was just a bonus."
Del Giallo and McIntyre won two round trip flights in North America and two passes to the 2014 Prime Time Sports Management Conference.