Kate Glover Berger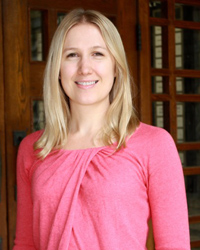 B.A. (McGill), LL.B. (Dalhousie), LL.M. (Cambridge), D.C.L. (McGill)
Dr. Kate Berger joined Western Law as an Assistant Professor in 2015. Her areas of specialization are administrative and constitutional law and she is co-director of Western Law's Public Law Research Group. In 2017, Kate was awarded the Prix d'Excellence de L'Association des Doyens des Études Supérieures au Québec for her research entitled "The Stories We Tell: The Supreme Court and the Constitution". In 2015-16, she received the Western Law Award for Teaching Excellence and in 2016-17, she was named the law faculty's Professor of the Year.
Kate has published widely in her primary areas of research and her work has appeared in multiple edited collections and peer-reviewed journals. She has presented her research nationally and internationally, including at the Frontiers of Public Law Conference (University of Melbourne & University of Cambridge), the Colloque sur la modification constitutionelle dans tous ses états (Palace des Académies, Brussels), the Conference on Rewriting the Canadian Constitution (Boston College), the Comparative Public Law Workshop (American Society for Comparative Law & University of Ottawa), the Osgoode Hall–University of Toronto Junior Faculty Forum, the Symposium on Constitution-Making and Constitutional Design (Clough Centre for Constitutional Democracy), the Quebec Society of Comparative Law's 50th Anniversary Conference (Université de Sherbrooke), and the Osgoode Hall Constitutional Cases Conference. Kate has also appeared as counsel before the Supreme Court of Canada and as an expert witness before the Special Senate Committee on Senate Modernization.
Prior to joining Western Law, Kate was the Paul Martin Sr. Scholar at Cambridge University, as well as a Vanier Scholar, an O'Brien Fellow in Human Rights and Legal Pluralism, and the Ian Pilarczyk Teaching Fellow at McGill University. Kate was called to the Bar of Ontario in 2007, after which she clerked for the Honourable Justice Abella at the Supreme Court of Canada and practiced civil and public law litigation at Borden Ladner Gervais LLP in Ottawa.
Learn more about the work of Western Law's Public Law Research Group.
"Diagnosing Administrative Law: A Comment on Clyde River and Chippewas of the Thames First Nation" (forthcoming in the Supreme Court Law Review (2018)) (Peer Reviewed).
"The Constitution of the Administrative State", Daniel Jutras & Marcus Moore, eds, Canada's Chief Justice:  Beverley McLachlin's Legacy of Law and Leadership (2018) 86 SCLR (2d) 161 (Invited) [forthcoming].
"The Impact of Constitutional References on Institutional Reform" in Emmett Macfarlane, ed, Policy Change, Courts and the Canadian Constitution (Toronto: University Press, 2018) (Peer reviewed) [forthcoming].
"The Principles and Practices of Procedural Fairness" in Colleen Flood & Lorne Sossin, Administrative Law in Context, 3d ed (Toronto: Emond Montgomery, 2017).
"Hard Amendment Cases in Canada" in Richard Albert, Xenophon Contiades & Alkmene Fotiadou, eds, Foundations and Traditions of Constitutional Amendment (Oxford: Hart Publishing, 2017) (Peer reviewed).
"Structural Cooperative Federalism" (2016) SCLR (2d) 21 (Peer reviewed).
"The Supreme Court in Canada's Constitutional Order" (2016) 20:2 Review of Constitutional Studies 143 (Peer reviewed).
"Complexity and the Amending Formula" (2015) 24:2 Constitutional Forum 9 (Invited).
"The Supreme Court in a Pluralistic World: Four Readings of a Reference" (2015) 60:4 McGill LJ 839 (Peer reviewed).
"Structure, Substance & Spirit: Lessons in Constitutional Architecture from the Senate Reform Reference" (2014) 67 SCLR (2d) 221 (Peer reviewed).
"Forgotten? The Role of Graduate Legal Education in the Future of the Law Faculty" (with Rosalie Jukier) (2014) 51:4 Alta L Rev 761 (Peer reviewed).
"Implicit Comparative Law" (with Roderick A Macdonald) (2013) 43:1&2 RDUS 123 (Peer reviewed).
"The Constitutional Status of the Administrative State" (2018) Canadian Journal of Administrative Law and Practice [forthcoming] (Invited), also published (20 February 2018), online: Double Aspect https://doubleaspectblog.wordpress.com.
A Third View of Legislating Two Languages at the SCC" (18 May 2016), online: Double Aspect https://doubleaspectblog.wordpress.com
"The Joy of Doctoral Studies" in Richard Janda, Rosalie Jukier & Daniel Jutras, eds, The Unbounded Level of the Mind: Rod Macdonald's Legal Imagination (Montreal: McGill-Queen's University Press) 275.

"The Canadian Senate & the (Im)Possibilities of Reform", Online Symposium on Bicameralism, Verfassungsblog, online: http://www.verfassungsblog.de/en/ (with Hoi Kong).
"Dance Your PhD: Is Legal Education Ready?" in Tom Garbett, ed, Creative Law: Selected Papers from the University of British Columbia's 16th Annual Interdisciplinary Legal Studies Graduate Students' Conference (Vancouver: University of British Columbia Information Repository, 2012) 75, online: CIRCLE http://hdl.handle.net/2429/41159.