The Canadian Journal of Law and Jurisprudence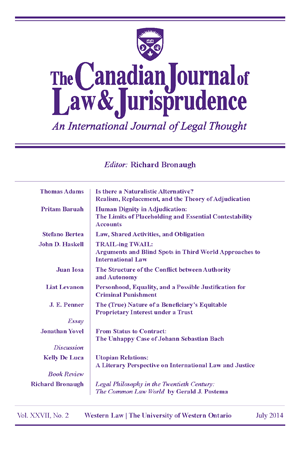 Editor:  Professor Richard Bronaugh 
Associate Editor: Professor Andrew Botterell
The Canadian Journal of Law & Jurisprudence is published biannually. Each issue typically contains eight to ten pieces; the target for each issue is 250 pages. Although the Journal is pleased to publish essays addressing highly general and abstract issues of legal and political thought, preference is often given to those essays that are directed to somewhat more concrete legal matters and do so in a philosophical way. We have no set length limitations, though articles exceeding 14,000 words (about 25 pages in the Journal) must be justified by remarkable quality.
The Journal seeks to respond to authors within two months after submission. Authors whose papers are accepted must sign a licence to give first-time publication to CJLJ. Post-publication, authors may employ their written text (not the page formatted article) as they wish. Any pre-publication after acceptance is discouraged. In the past our practice was to publish one special guest-edited issue every second or third issue. We no longer have plans for that on any regular basis, though we are open to suggestions.
The Journal will also often publish Critical Notices and Book Reviews; the former are substantial, titled articles about recent books whereas the latter are briefer discussions (rarely exceeding four pages in the Journal, 2000 words), also of recent books. If you would like write a Notice or Review please contact the editor and express your interest. The Journal does not do Case Notes or use papers undertaking to analyze statutes enacted in specific domestic legal orders.
Submitting Articles
We will receive most articles by e-mail attachment. Please send in Word (preferred) to CJLJeds@uwo.ca or, with questions for the editor, rbronaug@uwo.ca
Footnotes should conform to the Canadian Guide to Uniform Legal Citation/Manuel de la reference juridique.Authors who have access to a recent copy of the Journal will normally be able to determine the requirements of the McGill style as is present in any article. We now use the 7th edition of the McGill Canadian Guide.
Should one wish to submit by mail, the address is:
The Editor,Canadian Journal of Law & Jurisprudence 
Faculty of Law, University of Western Ontario 
London, Ontario, Canada N6A 3K7
The Journal does not disallow multiple submissions (typically coming from the USA), but will not honour requests for 'expedited review'.  The Journal seeks to respond to authors within two months after submission and expects to use papers it accepts prior to any notice of withdrawal from an author.
Authors are asked not to send their document 'prepared for blind review' or in PDF.
Subscribe to
The Canadian Journal of Law and Jurisprudence
Subscription Information 
Each Author receives free: 10 offprints and a copy of the journal in which the paper appears.
Extra offprints are available at cost.
Annual subscription (including postage and handling):
Institutions: 
$110.50 CAD + GST in Canada 
$117.50 CAD/USD to USA 
$123.50 CAD/USD to Rest of World
Individuals:
$64.15 CAD + GST in Canada 
$71.15 CAD/USD to USA 
$77.40 CAD/USD to Rest of World
A 25-year Cumulative Index was published in Fall 2012. The price is $18.00 plus postage (Canada $8.90, USA $12.25, Rest of World $15.25).
Single copies from the current volume and four years prior cost half the annual subscription price.
Further discounts are available for bulk and backset orders, postage and handling extra. Canadian orders add GST.
For subscription information, single issues and back orders, please contact:
Tigger Jourard, Business Manager 
Canadian Journal of Law & Jurisprudence 
Faculty of Law, University of Western Ontario 
London, Ontario, Canada N6A 3K7 
Phone: 519-661-2111, ext. 88406 
Fax: 519-661-3790 
E-mail: cjlj@uwo.ca